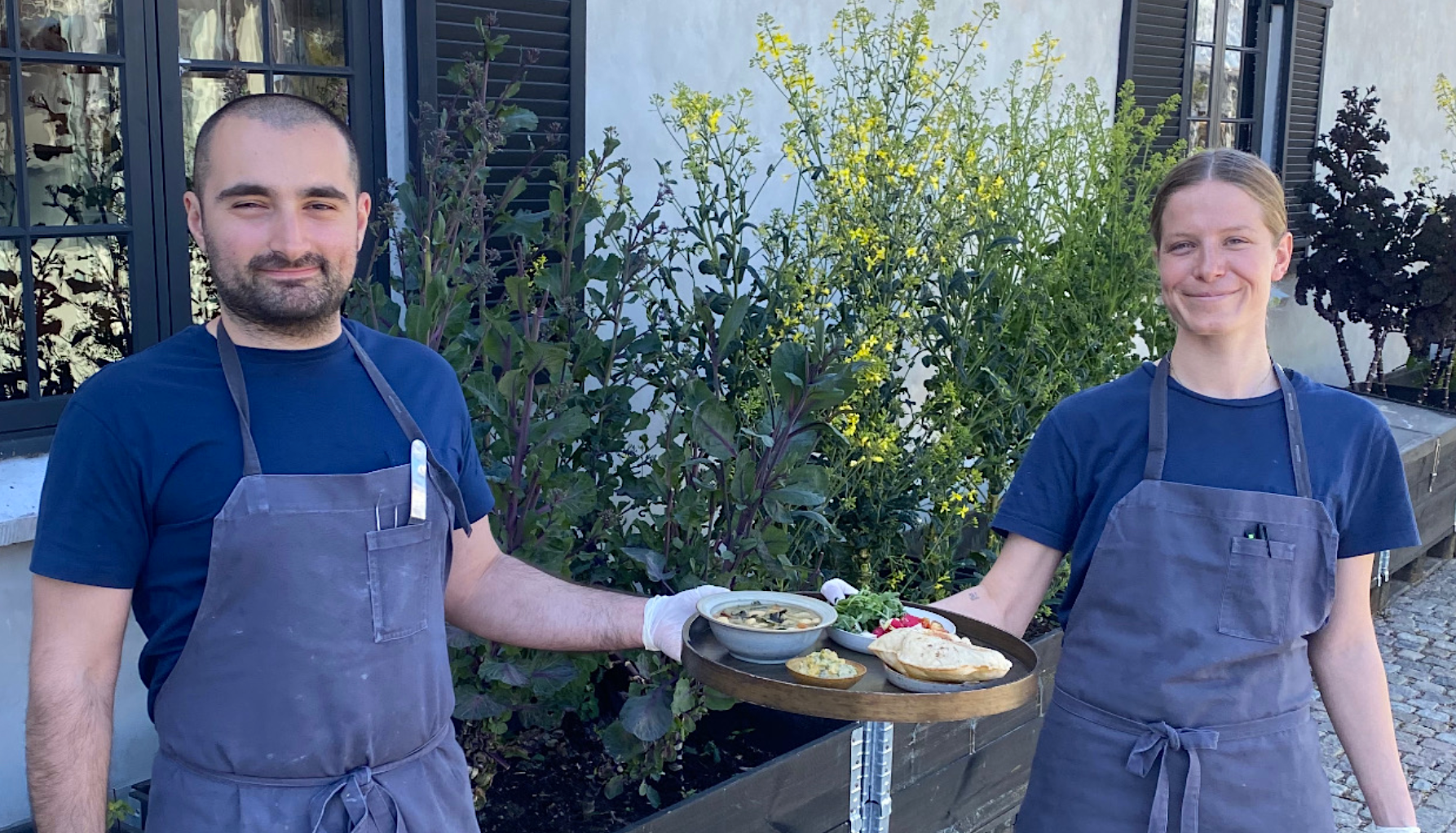 Au Noma à Copenhague, les équipiers cuisinent les uns pour les autres

 Copenhague – Le chef René Redzepi et la centaine de collaborateurs de son restaurant NOMA sont eux aussi confinés, au Danemark les conditions pour limiter la propagation sont moins restrictives qu'ailleurs en Europe.
Le gouvernement danois a annoncé ce vendredi 17 avril la réouverture partielle lundi prochain de certains commerces, comme les salons de coiffeurs, les instituts de beauté ou encore les auto-écoles, desserrant un peu la vis du confinement instauré le 12 mars pour tenter de contenir la progression du coronavirus dans le pays, mais pour l'instant les restaurants restent fermés.
Pendant la période de fermeture le chef Redzepi et son équipe ont voulu trouver un moyen de cuisiner les uns pour les autres et ainsi de rester connectés à distance. Chaque semaine, deux chefs de l'équipe donnent de leur temps pour cuisiner des plats à emporter pour le reste de l'équipe et leurs familles.
Les repas préparés sont récupérés chaque jour par roulement, juste à l'extérieur du restaurant, l'occasion d'un sourire et de quelques salutations qui permettent à tous de se revoir et de conserver un lien.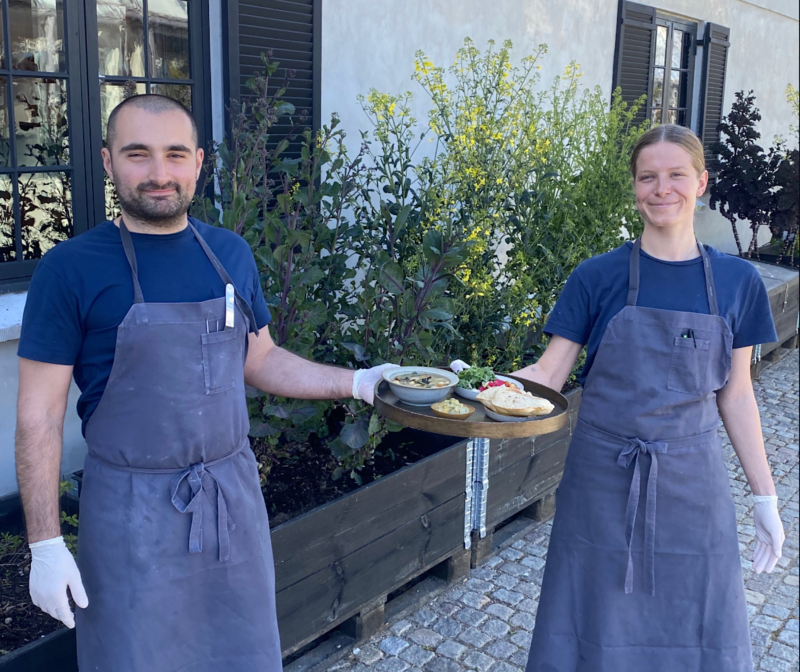 Ces plats réalisés par les chefs tout le long du mois dernier, ont été très appréciés par les équipes, les chefs ont désiré partager certaines des recettes, une belle façon de transmettre leur savoir.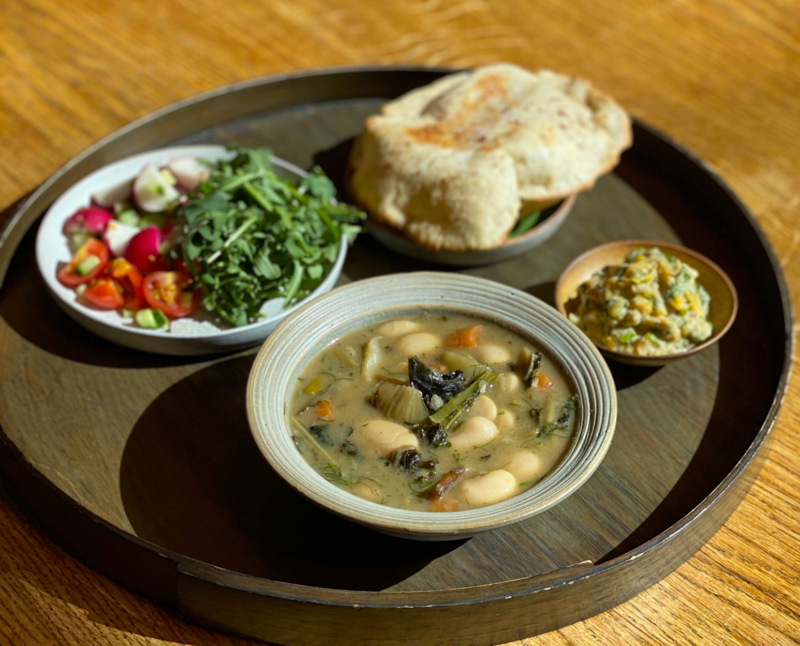 Pour retrouver les recettes des deux chefs, Alice et Fejsal – CLIQUEZ ICI 
ou récupérez ci-dessous :
Pita Bread
All Purpose Flour – 500 g
Water – 300 g
Olive oil – 30 g
Fresh Organic Yeast – 30 g
Salt – 25 g
Honey – 1 teaspoon
Yogurt – 1 teaspoon
Sugar – 1 teaspoon
Olive oil for brushing
*plus any seasoning you like to finish the pita bread, we used a spice mix of black pepper, sumac, coriander seeds, and a touch of salt
Sift the flour to ensure there are no lumps and combine with the salt and sugar.
Mix the liquids and fresh yeast and place in the bowl of an electric mixer at slow speed for 3 to 5 minutes; this can also be whisked by hand but it is much easier with mixer.
Slowly add the flour to the mixing liquids at low speed. When everything is in the bowl, bring to medium speed for about 3 minutes or until the dough comes together. Then finish mixing at high speed for 1 minute to develop the gluten a bit more.
Take the dough out of the mixer and into a tray covered with a wet towel and cling film and bulk proof in a warm place for 1 hour.
After bulk proofed cut out 50 gram balls from the dough on a floured work bench and shape with your hands into a tight ball. Place back onto trays covered with wet towels and cling film and proof for a further 30 minutes.
Place each ball onto your work bench with flour and roll with a rolling pin or dowel into thin flat breads, approx. 1.5 cm thick.
Bake in a very hot oven, approximately 250 degrees celsius, on a bbq or directly on hot coals, or in a very hot pan on the stove until they puff and the dough is cooked from within, which should be just a few minutes.
When cooked and still hot, brush with a bit of olive oil and season to your tastes.
White Bean Stew
Large white beans – 500 G, soaked in water overnight at room temperature
Carrots – 2 large pieces
Leeks – 1 large leek
Fennel – 1 head of fennel
Scallions – 2 pieces
White onion – 1 onion skin on cut in half widthwise
Kale – 5 large leaves per person
Garlic – 1 head cut in half widthwise
Rosemary – 3 sprigs
Vegetable Stock (approx. 2.5 liters)
Olive oil
Dill – 4 to 5 sprigs
Parsley – 4 to 5 sprigs
Lemon wedge – to season
Soak the beans overnight. The next day simmer your beans in the vegetable stock, which can be made from vegetables you have in your fridge, onion, carrot and celery are nice and easy to have around. Do not season the beans with salt yet. They will take a very long time to cook. Bring beans up to just a boil and simmer over low heat.
Cut your carrots, leeks, fennel and scallions into small pieces, roughly the same size of the beans. Roast them in a pan with olive oil until lightly caramelized but not fully cooked and reserve.
Pick your dill and parsley and reserve the tops for finishing the soup.  Place the stems, along with the rosemary in a muslin or cheese cloth to infuse later in the stew.
Slice  your whole onion and head of garlic widthwise and char them both on the cut sides until black on both sides, either on a BBQ or in a pan. When they are charred add them to the muslin or cheese cloth with stems and rosemary, tie it up and infuse in the broth for the rest of the cooking period, at least 30 to 45 minutes. Cut the kale and dress it in olive oil and roast in the oven.
When the beans are ¾ of the way cooked, to the point that they have just a bit of bite to them, add your chopped vegetables and simmer on low heat until all are tender, including the beans. Remove the cloth containing the aromats and finish the stew with the chopped herbs. Season with a bit more olive oil, salt and some fresh lemon juice. Add the roasted kale to the finished stew just before serving it.
Baba Ghanoush
Eggplant – 4 medium sized pieces
Yellow Pepper – 2 pieces
Scallions – 3 pieces
Garlic – 2 cloves
Parsley – 1 small bunch
Tahini Paste – To taste
Olive oil – to taste
The key is to char the eggplants very well on the barbecue directly on charcoal (if you don't have a barbecue you could do this over the flame on your stove top, or under the broiler in your oven). Char all sides of the skin until well burned. Don't be afraid here; the burning is necessary to impart the smoky flavor to the eggplant. Once charred, you can finish by cooking in the oven at around 170 Degrees Celsius just until tender. Peel the eggplants, discard the skins, chop the flesh and reserve.
You'll also want to cook the yellow pepper and scallions on the barbecue and directly on the charcoal (alternatively on your stove top or under the broiler), but not to the point of severely charring like the eggplant, the point here is to get a bit of charring and steaming within. It is necessary to coat the vegetables in a bit of olive oil first to help with the cooking. When the vegetables are cooked to your liking, chop the scallions, remove the seeds from the peppers and chop the peppers with the skin on; charred pepper skin is delicious in the baba ghanoush. (Also save all of the delicious cooking juices that come from the pepper! You can use it to dress a salad.)
Finely chop the garlic, parsley tops (stems can also be sliced thinly for a bit of crunch and freshness)
Mix everything together, season with the Tahini and olive oil, as well as a bit of salt.